---
🌎 Said El Mansour Cherkaoui, Ph.D. 🌍 5/5/2022
In particular, the formation of the BRICS group in 2010 emphasized that "the world is undergoing significant and rapid changes that highlight the need for corresponding transformations of global governance in all relevant areas." Its members have also argued that their collective control over much of the world's population (41% of the total in 2021) and economic output (31% of the total in 2021) calls for such renewal. China, India and Russia together also spent 18% of total military spending in 2021.
Europe to Change India Stance on Russia
The initial visit of Prime Minister Boris Johnson was the prelude and the laying of the red carpet for this visit by the EC President Ursula von der Leyen to India.
President of the European Commission
Strengthening the EU-India partnership is a priority in this decade.
My visit to New Delhi allowed us to:
Continue reading: https://europa.eu/!QymCMq
---
India and European Countries
Indian Prime Minister Narendra Modi is in Europe this first week of the month of May 2022, visiting Germany, France and Denmark, where he will meet the leaders of the five Nordic countries. German Chancellor Olaf Scholz has invited India to attend a G-7 summit in the Bavarian Alps next month. In New Delhi last week, European Commission President Ursula Von Der Leyen announced a new trade and technology council designed to deepen cooperation between the European Union and India.
Why have America's European allies reacted so differently to India's position on Ukraine?
Partly, it's because Europe thinks about its relationship with India the way the U.S. once did — as a partnership that goes beyond the transactional, in which each partner does not always have to agree. Partly, it is because Brussels has succeeded Washington as the location where consequential decisions affecting countries such as India are made. The U.S. has unquestionably turned inward under successive presidents. Meanwhile, the EU has taken the lead in setting regulations for big tech and for climate finance, and has developed its own strategy for engaging the Indo-Pacific region.
Europe's and India's very different reactions to the Ukraine invasion have, if anything, enhanced this dynamic rather than weakened it. Indian leaders see a new solidarity between European countries and a determination to enhance their capacity to project power. As Portuguese Foreign Minister Joao Gomes Cravinho said at the Raisina Dialogue in New Delhi last week, the invasion "powerfully stimulated Europe's need to think and act strategically, and this makes the European Union a more interesting partner for India."
At the same time, given their own reliance on Russia for energy, Europeans have a more nuanced understanding of how mutual dependence can constrain national action than the U.S. does. That awareness has encouraged the EU to identify those partners whom it can trust not to abuse the international system and their ties with Europe.
Not only is India one of those countries, it also clearly shares Europe's deep antipathy to the idea of being caught in a bipolar world defined solely by U.S.-China competition. Both Europe and India aspire to "strategic autonomy" — to be free of the constraints of economic dependence on China but also capable of action without U.S. support or leadership.
Most importantly, perhaps, this is a new Europe. A crisis on its eastern edge has reminded us that the EU is now as much a Central and Eastern European project as it is a Western European one.
While the countries of Eastern Europe are as determined to pick a side on the Ukraine invasion as India is to avoid one, they share India's aversion to lectures from "the West." They also speak a language that's easier for Indians to understand and sympathize with — the language of the formerly colonized, not the colonizer. Zbigniew Rau, Poland's foreign minister, said in New Delhi last week that "the 20th century was a very difficult period for empires, and let's do everything possible to make the 21st century even more difficult for them."
Framing matters. When the invasion of Ukraine is framed as a contest between two spheres of influence, India is likely to shrug and emphasize its non-aligned status. When the U.S. describes it as a unilateral violation of sovereignty and international law, those here who remember the Iraq War are unpersuaded.
But when the invasion is thought of — accurately, in my opinion — as the act of an imperial power imposing its will on territory and people it formerly controlled, then India's official and public neutrality will begin to weaken. The U.S. has always struggled to find the right language to speak to India about shared values; Europe seems to have discovered it.
India has always thought of itself as the leader of the postcolonial world and anti-imperialism was long central to its foreign policy. A Europe that "speaks the language of power" is attractive. But a Europe that can also speak the language of the oppressed with authority is one that India, and much of the emerging world, might heed with even more care. – Bloomberg – See the source here
For that, everything Goes East, Middle East and now more Far-East, Middle Asia, oil has been the driving force for all these trips and these voyages around the world just to deal with oil as the center piece of all these global imbrications of dialogues and interactions.
India in the World Map of Oil
India imports more than 85% of its oil needs and continues to buy Russian discounted crude. As an elite among the few remaining buyers of Russian oil, India is even asking Russia to sell its crude oil below $70 a barrel. The Indian government has defended the move to buy Russian oil, and said what it buys from Russia in a month is less than what Europe buys from Russia in an afternoon.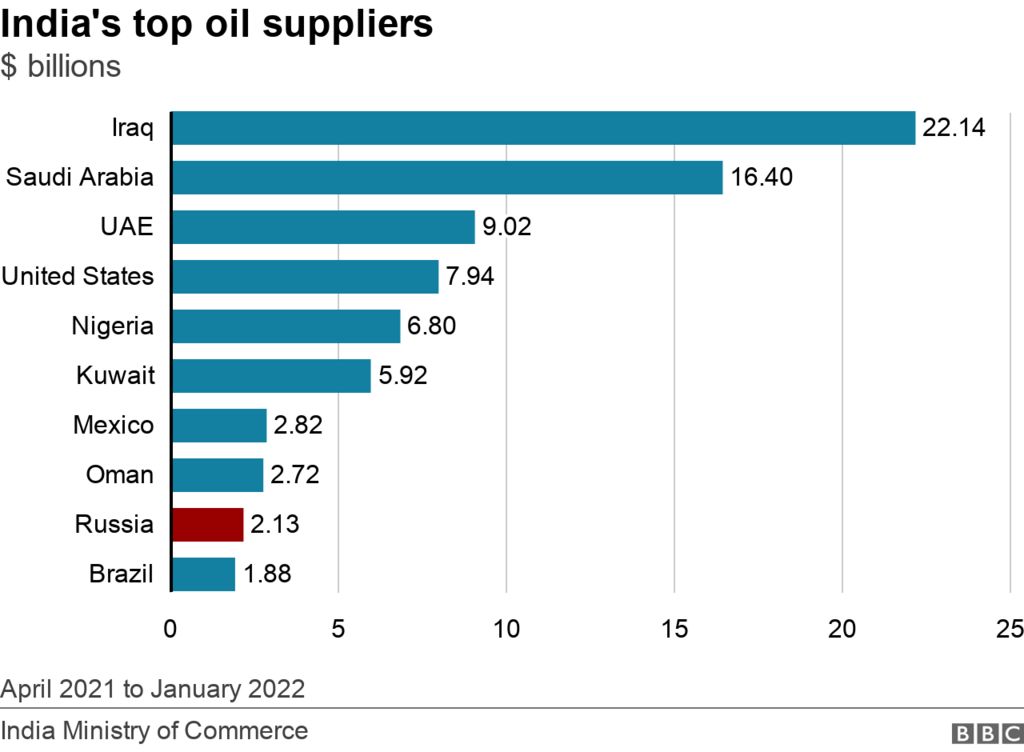 After the US and China, India is the world's third-largest consumer of oil, over 80% of which is imported.
But in 2021, only around 2% of its total oil imports (12 million barrels of Urals crude) came from Russia, according to Kpler, a commodities research group.
India is not seeking a secure supply of oil only, it is also developing an international approach with Russia and China toward a multipolar vision on the future of the relations between all the nations where superpowers can compete among themselves to set their own backyard of interactions at every level of international relationships with various nations and countries.
Within such an environment, the cascade of visits by Western European Leaders to India is also an attempt to make India less responsive to the irresistible pricing offered by the Russian authorities for their energy products.
The United Kingdom and European Union have found a common ground of entente and geo-strategic national interests, they are coordinating their policies and efforts to isolate Russia and here they are trying to make India to exit from a neutrality stance and be more willing to support the US and EC sanctions imposed on Russia.
The difficulty for these tasks is the close historic ties of mutual support shared between Russia and India during the time when Western European countries were siding with the United States, the United Kingdom.
The United Kingdom used to be the dominant colonial power in the regions of the Indian Subcontinent and have not always supported India in its regional quarrels with its neighbors. India was facing the conflictual rivalries of China and Pakistan supported by a Western European and US coalition.
The other aspect is a double edge sword which is the Nationalist orientation taken by the actual ruling party in India that Indian Prime Minister Narendra Modi is implementing as his own legacy, trying to sacralize his tenure among the historical figures and personalities of the Indian movement of independence from the United Kingdom.
The actual neutrality of India is in fact one of the expression of such deep concern about the Nationalism in India that goes beyond liberalism or secularism and is rooted in the Nationalism as a Hindu Civilization not just as political or ideological statements, it is embedded in the personalities and the beliefs of the Indian culture and identity.
---